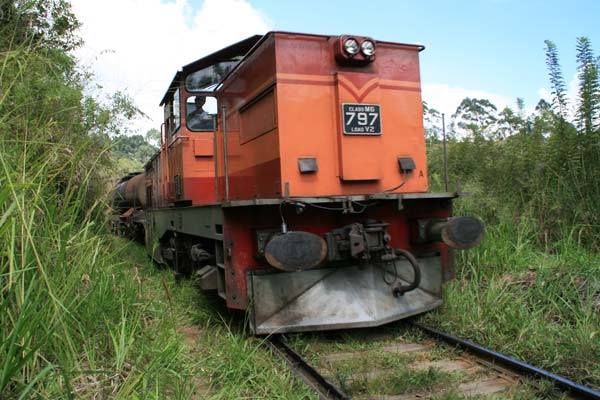 Negotiating the Indian railway system can feel daunting to a first time visitor to India. We've all heard horror stories of people hanging out of doors and travelling on the roof of overcrowded trains, and the huge amount of bureaucracy involved in booking a ticket. Luckily there's only a certain amount of truth in the stories!
In the previous post Kerala India Travel – Tips to Plan Your Trip (Part 3) we suggested that train travel is one of the best ways to travel around Kerala. It can be a bit confusing, but it is possible to travel comfortably and easily by train in Kerala. Here are some tips to help you along your way.
1) Everyone should try a train journey once – Travel by train is a great choice if you are on a budget, but even if you aren't it's an interesting Indian experience that's not to be missed. It's a great way to meet local people, watch the beautiful scenery go by, and even sample local foods (sold on platforms and by roaming vendors on the trains).
2) Start with short journeys – If you are worried about travelling by train then start with a short journey. The good news is that as Kerala is so compact, you rarely have to travel long distances by train. The Keralan coastline in particular is well connected by train. Here's some sample approximate journey times:
Trivandrum-Varkala – 45 minutes
Varkala-Kollam – 35 minutes
Kollam–Ernakalum/Kochi – 3-4 hours
Kochi–Kozhikode – 5 hours
Ernakalum/Kochi–Kannur – 7 hours
3) Trains aren't available on all routes – There aren't many trains available inland, especially in the hills, so you'll need to reach Munnar or Periyar by car or bus.
4) Allow for delays – Although most Kerala train trips are short there can be delays, so if you have the budget and are on a short time scale then consider taking a taxi for the shorter journeys.

5) Choose a higher class for longer trips – There aren't many long trips within Kerala itself, but if you are arriving or leaving to a destination in other parts of India it's likely that you'll be taking an overnight train. This is when choosing your class becomes more important, as it can make all the difference to the comfort of your journey. The class system can be a bit confusing at first, with many options on offer.
There are only a few trains with First Class or AC1 carriages, so generally I'd recommend AC2 (Air Conditioned two tier) for those prioritising comfort over price. These have the most space and comfort with only 4 people in each compartment, and curtains for privacy. This is the best option for really long journeys when you are spending a day and a night on board. There will only be two of you on the long padded seat (which acts as a berth at night) so there's plenty of space to stretch out.
AC3 (Air Conditioned three tier) is similar to AC2, but with an extra tier (i.e three berths vertically). This doesn't make much difference at night, but during the day there will be 6 people in the compartment, so there's less space to spread out. There are also no privacy curtains.
Sleeper Class is the way the majority of India travels. The layout is similar to AC3, but there's no A/C, no bedding is provided, and it can get more crowded. Many adventurous travellers prefer to travel in sleeper class because they feel they get to meet 'real Indians' as opposed to the middle classes who travel in AC2 and 3. It's also very cheap.
Sleeper Class is fine for short journeys during the day, but you might want to consider a bit more comfort for long trips.
There's a great breakdown of the different Indian rail classes,  complete with photos, at The Man in Seat 61.
6) Book online for long trips – You don't need to book in advance for short journeys, but overnight trains often book up, especially AC2 and 3 during peak season.  You can book these trains online at www.irctc.co.in up to 3 months in advance and receive an eticket which you can print out.
You'll need to register before you can book. The website can be slow at times, so if you have problems try again later. We used the site throughout our Indian travels, and although it can be frustrating it's still much easier than dealing with the bureaucracy and queues at Indian train stations.
If you just want to know the train timetables then visit Indian Rail.
If you get stuck then feel free to leave a comment below or contact me, or check out the helpful forum at IndiaMike, where there are lots of posts about Indian trains. Enjoy your Indian train journey!
Tags: Kerala India Travel, trains