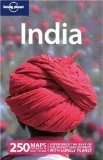 This is the final part of our Kerala Guidebook Review series. I have recommended The Rough Guide to Kerala and Lonely Planet South India, but if you are touring the whole of India then the newly released Lonely Planet India is a great choice.
Contents
The Lonely Planet India is a brick of a book. Its 1244 pages weigh in at 1kg/2 pounds, but are packed full of practical information covering every region in the country.
The structure and layout is the same as the Lonely Planet South India, so see my review of this for more details. As in the other guide the Highlights, Getting Started and Itineraries sections provide a great overview of India and help to plan a trip to this huge country. The main differences are the lack of colour food section (although the food section is quite detailed), and language phrases are only listed in Hindi and Tamil.
Each state is covered in its own chapter. The Lonely Planet South India guide has slightly more info on the Southern states, but not a great deal more. As usual the Lonely Planet guides are very strong on budget accommodation listings, transport information and maps.
Pros
The guide covers the whole of India
It was recently released in September 2009 so is the most up to date India guidebook on the market
Lots of accurate and easy to use maps
The suggested itineraries section is very useful for planning a trip
Helpful transport information. I believe Lonely Planet provide the best advice on how to get from A to B.
Activities section is great for planning a trip around an interest such as bird-watching, kayaking or yoga.
Cons
This is a huge and heavy book. I recommend doing what we did and cut out the chapters of the states you won't be visiting. We also cut out the state we were in so that we didn't have to carry around the whole book for daytrips.
Only Hindi and Tamil are included in the languages section
Lonely Planet is the most popular guide with travellers in India, so you could end up following the crowds, especially with the accommodation recommendations.
So which guidebook is right for your trip to Kerala and India? If you are just visiting Kerala go for the Rough Guide to Kerala for the most specific cultural and practical information in a very compact book. The Lonely Planet South India is a great choice if you are travelling further afield, and if you are venturing all over the country then you won't go wrong with the Lonely Planet India. Just do your back a favour and cut out the pages you don't need!
Buy the Lonely Planet India Now
Tags: blogsherpa, India, Kerala, Kerala India Travel, Trip Planning