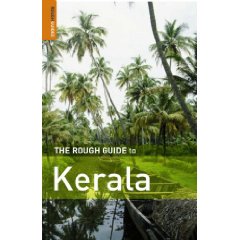 This is the first in a new series reviewing the best Kerala guidebooks.
The Rough Guide to Kerala is the only major guidebook that covers Kerala only and is ideal for travellers who are just visiting Kerala, and not the rest of India. This comprehensive guide is suitable for all independent travellers, whether on a shoestring budget or in search of comfortable resorts.  It covers all the major attractions as well as more off the beaten track destinations.
Contents
The Rough Guide to Kerala is a compact size with 351 pages. It includes:
A Colour Introductory Section – This includes a good introduction to Kerala, a colour map, an overview of 'where to go', and a useful 'when to go' section featuring average temperature and rainfall charts.  The '19 Things Not to Miss' feature includes colour photos and alongside the most obvious sights, lists interesting aspects of Keralan culture such as Kalarippayattu, an acrobatic martial art, and Sadya, a banana leaf feast. This section is a really useful overview and gives a good sense of what there is to see and do in Kerala.
Basics Section – Here you'll find all the important practical information you'll need to plan your trip. It includes information on transport (getting there and around), types of accommodation on offer, health, sports and outdoor activities, culture and etiquette (very important for India), shopping (what are the best souvenirs to buy), travelling with kids, and travel essentials such as costs and changing money.I particularly like the comprehensive festivals list which details 48 Keralan festivals that take place throughout the year, and the detailed guide to delicious Keralan food and drink. This features a section on Keralan spices, and a list of '10 Great Places to Eat Authentic Keralan Food'.
The Main Guide – This is divided up into Southern, Central and Northern Kerala. Each section includes an introduction, a map, a list of highlights and some history for that area. The guides are detailed and for each place cover transport, accommodation, sights, eating and practical listings for hospitals, internet cafes etc.

Both popular and smaller off the beaten track destinations are covered. The accommodation reviews cover the full range of options from rock bottom budget to luxury resorts. There is a colour section on the backwaters, but mostly the guide section is text with the occasional black and white photo.

Contexts – At the back of The Rough Guide to Kerala there is detailed information on the history, religion, sacred arts and wildlife of Kerala, which is very helpful for learning more about the state. There is also a comprehensive book list for further reading.
Language – The final section features basic Malayalam phrases and a helpful food glossary.
Pros
This is a comprehensive guide to Kerala with a huge amount of background information to Keralan culture, as well as detailed listings for many destinations.
It's a compact size that is easy to carry around.
The accommodation reviews cover all budgets from shoestring to luxury.
Lots of practical information to help you plan your trip such as how to book trains, where to get your laundry done and how much your trip will cost.
A detailed guide to Keralan food – a very important part of your trip!
It's the only Kerala only guide on the market, so you don't have to carry around unnecessary information if you are only visiting this state.
Cons
The current edition of The Rough Guide to Kerala was published in October 2007, so some of the information will be out of date, especially prices.
The accommodation prices aren't listed, just a price range. However given that these prices go out of date quickly this may be an advantage.
I don't find the maps as detailed or accurate as the ones published in the Lonely Planet Guides.
Summary
The Rough Guide to Kerala
is the best guide on the market for people wanting to travel independently to only Kerala, and not other parts of India, or if you are planning to spend a significant period of time there. It is suitable for all travel budgets whether you are travelling by car and driver or bus, and staying in basic guesthouses or luxury resorts.
In future posts I review my other favourite guidebooks Lonely Planet South India and Lonely Planet India, which are excellent choices if you are touring other parts of the country as well as Kerala.
What is your favourite guidebook to Kerala? Leave a comment and let us know.
Tags: blogsherpa, India, Kerala, Kerala Guidebooks, Kerala India Travel, Trip Planning